Welsh Section B Stallion




Lemonshill Top Note

61042 WSB

Currently leased to Matthew Yaroth of Witko Stud all enquiries to 07816926306
2002
Photo below as a 3 yr old at the Royal Welsh


12.3hh
Sire:
Soudley Taliesin 47529

Eyarth Rio 30571

Hafodyresgob Buzby 21382

73758 Eyarth Zsa Zsa

93177 Rotherwood Primrose

Rotherwood Prince Regent 27056

48676 Rotherwood Red Rose

Dam:
98808 Lemonshill Angelica

Cottrell Artiste 28719

Rotherwood State Occasion 21073

52458 Downland Almond

39407 Coed Coch Aden

Coed Coch Berwynfa 2114

19458 Coed Coch Deryn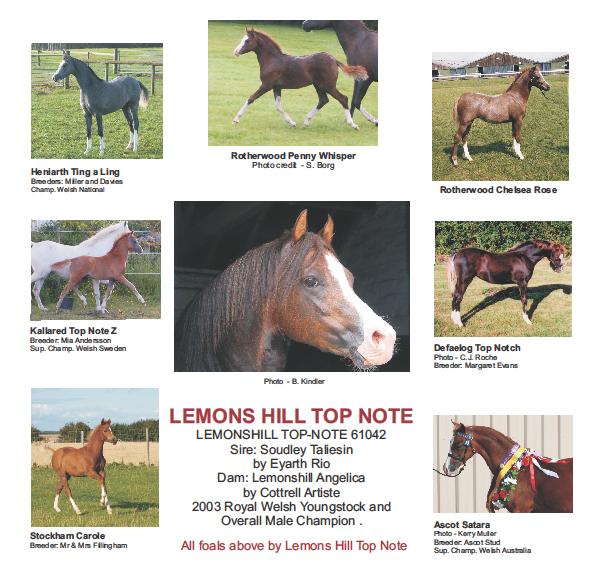 2003 Champion Youngstock, Res. Supreme Male : The Royal Welsh
Champion Welsh Pony & Cuddy Qualifier : The Royal Cornwall
Champion : Midlands In-hand Show
2004 Overall Champion Welsh, Reserve Supreme M & M : West Midland Stallion Show
Res. Champion: Devon County
1st The Royal Welsh 1st Royal Cornwall
Supreme Champion : NPS Devon
2005 Champion Youngstock & Res. Supreme : South West Welsh
Res. Champion : Royal Cornwall 2nd Royal Welsh
Overall Supreme, Champion Youngstock : South West "Welsh Champion of the Year"
Top Note (Toby) is a true Welsh Pony, tremendous presence, good bone, beautiful head & eye and free movement from the shoulder. Recently broken, he has the most delightful temperament.
Frozen semen available worldwide
British Riding Pony Stallion
Rotherwood Peter Pan WPBR
1994 Bay 12.2hh 128cms

Sire:
Westacre Concerto
Dam:
Katie's Dream
by Keston Royal Occasion

1995 Supreme Champ. The Royal Show. 1996 Champion Welsh Part-bred & Res. Templeton The Royal Welsh. Champ. Gt. Yorks, etc. Sire of Rotherwood Flamenco - winner & Res. Ch. the Breeders Challenge Wembley 2000. Sire of G. Mr Smee, winner Youngstock Breeders Challenge Wembley 2001.
Frozen Semen Only (Worldwide Export Available)
Rotherwood Peter Pan's progeny includes:
128cm
Rotherwood Rainmaker
Shown here winning the Overall Supreme Horse and Pony Championship at the ROYAL INTERNATIONAL HORSE SHOW 2011, and also was Res Champion Show Pony HOYS 2011 . Jockey Poppy Carter is being presented with the Championship by 'DOC MARTIN ' - Martin Clunes - BHS President
138cm Show Pony
Rotherwood Flamenco
2nd H.O.Y.S. 2004
Champion Ridden SP
Three Counties
East of England 2005
WESTACRE CONCERTO
Bay 13.2hh (138cms)
(1982-2002)
Frozen Semen Only (Worldwide Export Available)


Frozen Semen by Westacre Concerto
is still available.

A TRIBUTE

It was with great sadness that we had to say goodbye to my beautiful Riding Pony Stallion Westacre Concerto - always known as 'Shirty'. He had been with us here at Rotherwood Stud for over twenty years, a loyal servant, true friend and part of the family.
His breeder Miss Angela Mackley arrived with him as a foal at foot with his Dam Twylands Crescendo when bringing the mare back to stud again to Keston Royal Occasion. From the moment he stepped down the ramp of the lorry I knew he was very special. Shirty possessed that True Pony Character, with elegance, quality, movement, enormous presence and 'look at me'. I immediately declared there and then that he must be mine at weaning time and so he was.
The yard seems so quiet without him, he was such a talker and would call out whenever he heard my voice or his food was a minute late!
In his showing days he was unstoppable, winning all before him including the The Royal, The Royal Welsh (he was Part-Bred Welsh registered as well as N.P.S.), and at both one and two years old he was Supreme Champion Youngstock & Reserve Overall Supreme of Show at the then 'Ponies of Britain'. He was chosen to represent The British Riding Pony in a parade of Stallions at Burghley and how he showed off and enjoyed himself that day!
He has left a galaxy of top-class ponies and sired stock in many other countries including Australia and South Africa. Indeed he was one of the very first English Pony Stallions to ever export frozen semen to Australia. Shirty has truly left his mark as a Stallion.
His blood-lines will live on in the stock he has left behind to carry it toward for future generations.
His own full brother - Twylands Carrillon - was Ridden Children's 'Show Pony of the Year' at the Horse of the Year Show, Wembley in 1985. They were both by the famous Welsh Section B Stallion Keston Royal Occasion who stood here at Rotherwood, until exported to Australia in 1982, and out of Twylands Crescendo. Her dam was Bwich Zephyr, Zip and Zingari.
So the very cream of the pony blood-lines came together in Concerto's pedigree. No wonder he was such a great and truly lovely pony.
Much loved and much missed, but lots of years of happy memories.
Elizabeth Mansfield, Rotherwood Stud. Sept 2002
Stock by the above stallions continue to excel both under saddle and in hand


Rotherwood Rainmaker
Sire: Rotherwood Peter Pan

Rotherwood Rainmaker
Sire: Rotherwood Peter Pan

Wembley Breeders Challenge Youngstock
Winner GREENBARROW MR. SMEE
(Owner/Breeder Mr & Mrs Duke)
Sire: Rotherwood Peter Pan

Champion ROTHERWOOD BRIGADOON
Sire: Rotherwood Peter Pan
(Owner Miss S Coulter)

Champion ROTHERWOOD DREAM A-LONG
(Owner Mrs. C. Brown)
Sire: Westacre Concerto

Champion ROTHERWOOD PEEK-A-BOO
(Owner Mr. Morris)
Sire: Westacre Concerto
Strinesdale Matador
1990-2010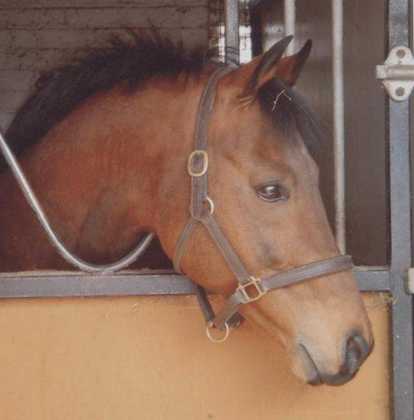 Strinesdale Matador
1990-2010
Property of Mrs E. Mansfield

Frozen Semen Only (Worldwide Export Available)

Strinesdale Matador has yet again WON THE NPS AWARD for the TOP BRITISH RIDING PONY STALLION IN THE UK
[ THREE TIMES out of the four years it has been run .]


TRIBUTE WRITTEN IN 2008 WHEN MATADOR WON THE NPS BLUE CHIP BRITISH RIDING PONY STALLION AWARD
which he also won again in 2009 and 2010

STRINESDALE MATADOR

I will never forget the moment I first set eyes on the most stunning bay colt foal I had ever seen, when he arrived with his dam Gredington Natalia at Rotherwood Stud in 1990. She was to be covered again by Twylands Troubadour. I just knew I had to have this him! He absolutely just floated loose at her side across the grass --- oozing presence and quality and a true pony, a Star. He was shown for us by Tom Best and David Blair, Waxwing, as a yearling and he was Champion at the Royal Highland, and Supreme at the Gt. Yorkshire � where he qualified for the Creber [now Cuddy ]. He was not shown at 2yrs because of stud duties and was shown once at three when he was Youngstock Champ and res Overall Supreme In-Hand at Ponies UK. It was also at three he was the first Pony Stallion to pioneer the collection and use of Frozen Semen for both here and export overseas. It was to prove a huge, and at the time, controversial step in the furtherment of the British Riding pony blood�lines to other countries. He sired the very first pony foal got by Frozen semen, to be born in Australia at the Astral Park Stud. It was on a visit there that the owner Sandra Donovan was really the very first person to come to me with the whole idea. She persevered through many obstacles to achieve success together with West Kington Stud and Martin Boyle. In the meantime his very first foal was Champion Foal at the Royal Show, and at such an early time his stock started to really show their mark. Matador was broken in at 5years by David Bartrum and Jan who had their moments -- but found him to be a very good jumper to add to his talent!

Matador now is the sire of so many winners in many spheres of competition, with the movement he is so renowned to produce, he has sired dressage ponies, cross country, show ponies, show hunter ponies, workers and performance ponies. He has sired the National Show Pony of the Year both in Australia and in the UK and in 2003 sired the Show Pony of the Year AND the Show Hunter Pony of the Year at HOYS.

What a great servant he has been, and what a lot I and Rotherwood Stud owe him. When I was �grounded� in 1997, Mattie went up to continue his Stud duties at the Pickmere Stud in Cheshire where he is to this day, so caringly looked after [and spoilt!] by Pat Mather and John Keleher. A big �thank you � goes out to them and of course to his breeder Danda Richardson � the Matador story could not be told without them.

Matador carries with him the marvellous dynasty of blood-lines from generations as far back as Bwlch Valentino, who was really the founder of the British Riding Pony of today, to his son Bwlch Zephyr, then next, to his son Solway North Wind, [who stood here for many years ], to his son Twylands Troubadour who is the sire of Matador. I am so thrilled he has won this award for the second time. It is a great achievement and honour and I would like to thank all those who have contributed by showing his off-spring. Thank you too to those who have given we breeders this Stallion Award Scheme � it is greatly appreciated.Thank you.

Elizabeth Mansfield � Parnell Dec. 2008

Obituary

It was a very sad day when Matador was put to sleep aged 20 yrs, after a very bad case of Colic � the first he had ever had.

He was a true star, even when arriving at the Stud as a foal with his Dam Gredington Natalia, who had come back to the stud to visit Twylands Troubadour, he took my breath away as he walked down the ramp and floated across the lawn, I just knew he was very special and I MUST have him!

His contribution to the pony world is a legend and he will live on in the progeny he leaves behind and thanks to the modern technology of frozen semen, his stock will still be representing him in years to come. But it is the loss of he, the pony himself, which we feel, poor Pat and John who have looked after him with such loving care and understanding, have the empty box and no head over the door. Matador in fact was a pioneer of the use of frozen semen and one of his foals was the first ever Riding Pony foal to be born in Australia got by frozen semen. He was a prolific sire of so many Champions World wide and was much loved by the Showing world. We were overwhelmed by the many tributes to him � over 33 pages on his Facebook! It seems he touched so many peoples lives .

He was bred by Danda Richardson, of the Strinesdale Stud, Lancashire, UK. and I bought him as a weaned foal. As a yearling I asked Tom Best and David Blair of the Waxwing Stud if they would show Matador for me. They had great success with him including qualifying for the then Creber [ now �Cuddy�] In �Hand Championship at our HOYS, by being Supreme at the Great Yorkshire amongst many other Championships. He started his Stud duties at 2 yrs and was shown again just the once at three when he finished Reserve Supreme at the Ponies [UK]. At five years old, during the Winter he was broken in to ride by David Bartram and Jan Darwin who discovered that he loved jumping and was the most superb balanced ride. I think one of Matadors most noted contributions is that he has put back movement on to the ponies of today. With the innovation of the National Pony Society Stallion Sire Rating, Matador has won it all the three years since it began!

In 1996, I had to have many leg operations and it was going to be difficult to run the Stud, so that is how Matador came to go up to stand at the Pickmere Stud, Cheshire, where he stayed for the next fourteen years, till his death, with John Keleher and Pat Mather.They loved and cared for and understood Mattie -- he was thoroughly spoilt, and they soon found that as the number of winners he sired grew, so did the quantity of visiting mares!

Matador was a stallion who � as Pickmere Stud so aptly put it � �commanded attention with his awesome presence and who owned every inch of the ground he stood on�. At the 2009 HOYS he had sixteen off-spring including Champions in many different spheres. His ashes are buried at Pickmere and there is a Memorial Stone in his memory at Rotherwood. He will live on for ever in our own memories of him but the stock he leaves behind will also be a fitting tribute to a very great Pony Stallion for generations to come. Thank you Mattie for being a wonderful servant to Rotherwood and the whole Pony World.
Liz Mansfield Parnell

Progeny of Strinesdale Matador include